Welcome to Marenas Beach Resort
Your Secluded Piece Of Paradise In Florida's Riviera
At Marenas Beach Resort, we thrive on helping guests make the most of their time on Sunny Isles Beach, which we like to think of as "Florida's French Riviera." Overlooking an immaculate 2½-mile ribbon of white sand beachfront on the quieter side of North Miami Beach, we offer a laid-back, family-friendly experience with luxury hotel amenities and the friendliest service on the oceanfront. Away from the crowds yet close to everything, this is Miami as it was meant to be experienced.
Combining classic and contemporary styles, Marenas offers a combination of rooms and suites with full kitchens and private balconies with views of the sparkling Atlantic Ocean and Intracoastal Waterway. For guests hosting a business gathering, wedding or special event, our newly redesigned event space encompasses over 10,000 square feet of flexible indoor and outdoor space with breathtaking oceanfront views.
Let's Explore Sunny Isles Together
Our North Miami Beach location offers guests easy access to the renowned attractions, dining, nightlife and shopping that have made Miami one of the world's most sought-after and celebrated destinations. Let us help you plan your stay with recommendations on cool things to do that only a local would know.
What You Get
Our vibrant, tropical resort features an oceanfront infinity edge pool and easy beach access, where hotel guests enjoy beach chairs and umbrellas. Other perks included with our daily resort fee include complimentary high-speed Wi-Fi, Zumba and Yoga classes on weekends, beach cruiser bikes for exploring Sunny Isles, 24-hr fitness center, sauna, and a champagne welcome drink offered upon check-in.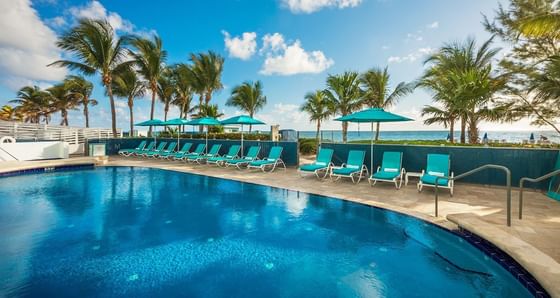 Oceanfront Pool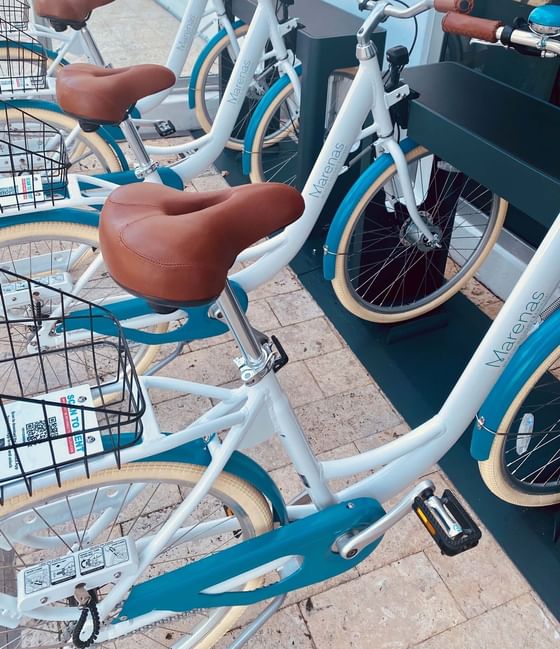 Beach Cruiser Bikes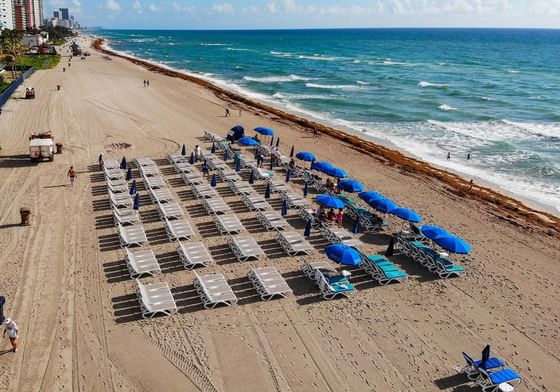 Beach Chairs & Umbrellas
Accommodations
Accented by light woods and frosted aquamarine glass, all of our Florida accommodations offer king-sized beds, large bathrooms, floor-to-ceiling windows, and most importantly, private balconies to experience sweeping views of the ocean, bay and city. Our rooms allow you to discover the ocean, right at your fingertips.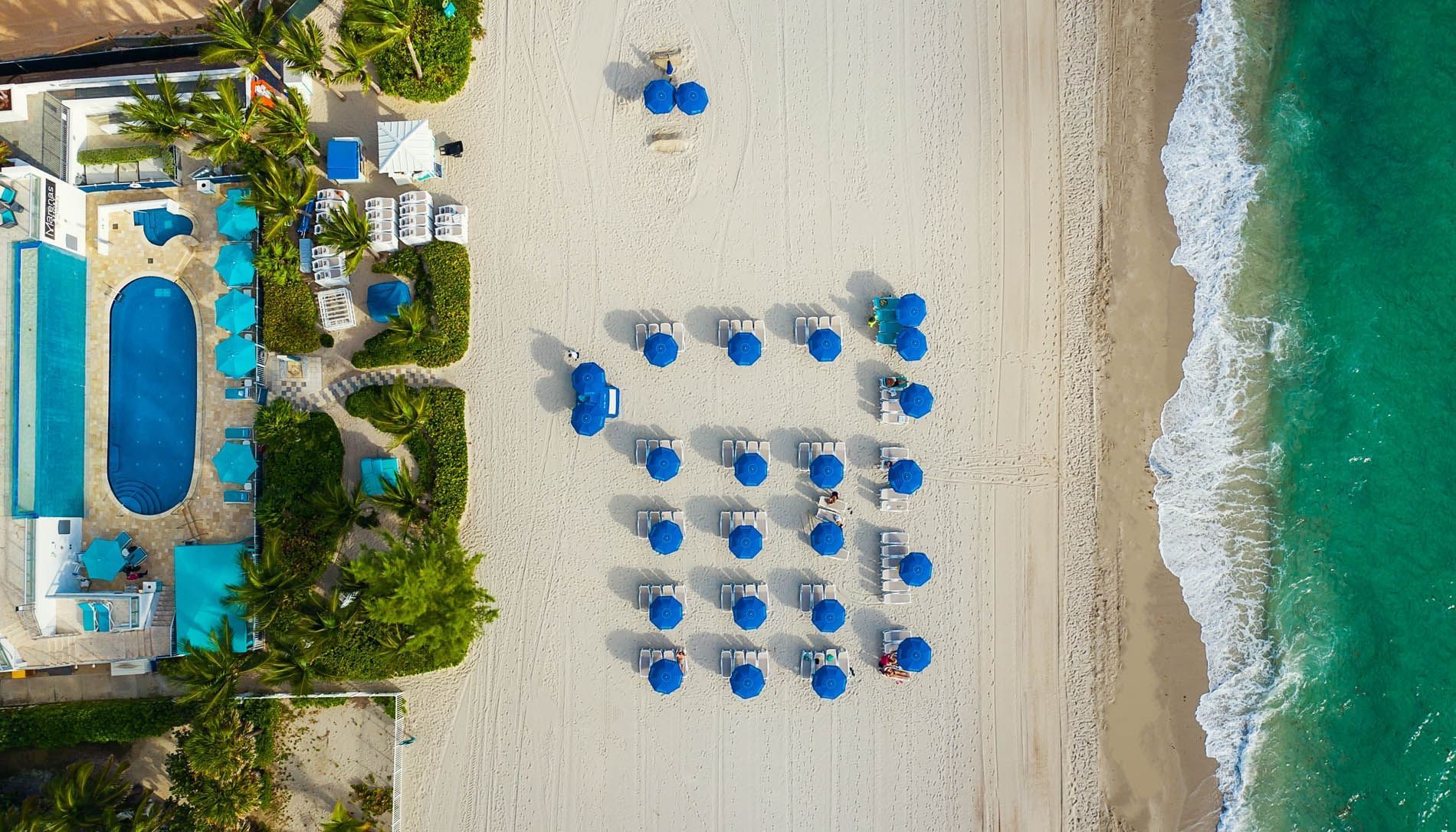 What People Are Saying
During your stay with us, you will enjoy warm, personalized service from staff members well-versed in the art of hospitality. If you're considering a visit, please experience our hotel through the eyes of your fellow travelers by reading our resort reviews.
Fantastic beach resort! Our suite had wrap around views of the ocean/bay and tons of room. Amenities are great too - especially the beach chairs. The beach attendants were so helpful, quick, and friendly setting up chairs and umbrellas for all of us! Highly recommend all the way around
This is my second time staying here and there aren't enough words to express how wonderful this hotel is. The staff, from the valet to guest services to management. ALL were helpful and friendly. The room was spotless. The pool and beach staff were so great as well. When in Miami I will not stay anywhere else! Highly recommended!! Also recommend for group travel.
We stayed in a suite for a few nights and it was fantastic! The hotel is right on the beach and the kids had so much fun. The hotel staff went above and beyond to make our experience special. The kids had a blast building sand castles and collecting shells. There's a games room as well. We will be back!
I've stayed at this hotel several times and it has always been a very good experience. The rooms are nice, valet is quick and management has great customer service. Your stay include beach chairs and umbrellas which is a plus.
MARENAS BEACH RESORT MIAMI

I LOVED our stay here. I will definitely be coming back here as my hotel of choice (I don't even need to visit another hotel to compare service). The entire staff was very hospitable and made me feel welcome. I should've taken a picture with as many of you as possible. To the beach crew (Niko, Paolo, Mati, Juan, Zach, and Isaac), thank you as well as you guys made my beach experience very enjoyable. Hopefully I will see you guys next year around this same time (possibly before
BEST PLACE TO STAY OVER SUNNY ISLES BEACH!!!

Best experience ever, Marenas is a great place to stay. Beside it's over the sand and has all the amenities you need, people are so friendly!!! Everybody is all the time trying to make your life easier during your vacation. The apartment was huge, 2 bedrooms and 3 bathrooms with an incredible bay view. Highly recommended!!!
We visited Marenas Beach resort with family and had a wonderful stay. Our suite was oceanfront and all the amenities including a washer/dryer in the room. Beautiful ocean views from the balcony. Kitchen is fully stocked up with everything. Great service and location. Publix and stores right across the street. Beach is cleaned every day from all the seaweed. Beach chairs and towels are provided with the resort fee. Great resort and wonderful weekend.
GREAT SERVICE, OUTSTANDING VIEW!

This is my second time in Marenas and I cannot think of a different place to escape on weekends. Call the Hotel directly and they will assist you with the best rates. Staff at the front desk always with a great service. Definitely recommend Marenas and I will keep coming back.
Great staff, great property, great location! Will be back soon. Favorite resort in Sunny Isles Beach, FL. This is my home away from home!! Located near all major attractions it makes our visit to Miami easy and truly enjoyable. Staff goes above and beyond for their guests. Will keep coming back
Hotel was in a great location. The beach was very peace and calm with less going on. We have Miami like a second home for us. This hotel has added to everything we have thoroughly enjoyed in Miami. We love it.